Making some G&T serves at home is a great way to celebrate the world's love of gin and tonics, but it can be hard finding new recipes. Fortunately, we've got you covered with 5 delicious G&T variations. Enjoy responsibly!
Pineapple Gin & Tonic
Check out this recipe. This is a great way to bring some tropical notes to your favourite Gin and Tonic serve! 
Ingredients:
Method:
Cut one wheel of pineapple into wedges and muddle it into your cocktail shaker. Add ice, gin, shrub, and freshly squeezed lime juice. Shake vigorously and strain into a glass filled with ice. Pour tonic water and garnish with pineapple wheel and/or a mint leaf.
Savuory Gin&Tonic from Portobello Road Gin
The genius of Portobello Road and Fever-Tree's Mediterranean tonic water is a match made in heaven. The floral flavor perfectly matches the mediterranean botanicals of this savory gin, giving it an extra touch that will leave you wanting more!
Ingredients:
Method:
Fill the highball glass with ice, pour gin and top up with tonic water. Garnish with a slice of lemon and a sprig of rosemary.
Garden G&T - Cooper King Distillery
Cooper King Dry Gin is an amazing juniper-led dry gin with rich cardamom notes, hints of floral honey and juicy citrus flavors. Pair it with Indian tonic water for a fragrant G&T that will make your taste buds happy!
Ingredients:
Method:
Mix gin and Indian tonic water in a glass filled with ice. Garnish with fresh herbs or spices (rather than citrus), serve immediately and enjoy!  
Spiced Orange and Cinnamon G&T
If you like your Gin and Tonic spicy, try this delicious autumn serve. A blend of fresh orange with cinnamon flavours makes it a perfect seasonal drink for fans of warming drinks on chilly autumn nights! We recommend using Cotswolds Baharat Gin to add some warming spice while still preserving sweetness in the taste.
Ingredients:
Method:
Pour gin and tonic into a glass over plenty of ice, add in a few orange slices, a little sprinkle of ground nutmeg and garnish with a cinnamon stick.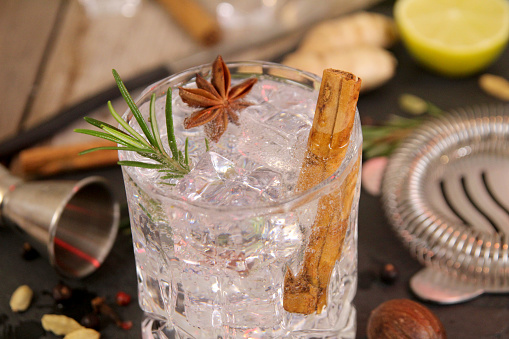 Jalapeño and Cucumber Gin&Tonic
Khao San Gin is a perfect fit for those who enjoy spice in their drinks. This variation on the classic G&T offers an exciting take on this traditional combination as it contains many peppery and citrus flavors that really stand out.
Ingredients:
Method:
In a shaker muddle together lime juice, jalapeño, and cucumber. Pour the mixture into the glass filled with ice, add gin and top up with tonic water. Garnish your G&T with jalapeño and cucumber.